Are you tired of struggling with traditional manual sprayers, limited autonomy, and cumbersome equipment when working in your fields? If so, we have some exciting news for you. EZ Tools & Sprayers is proud to introduce our latest innovation, the Pegasus 35 Electric Trolley Sprayer. With a 9-gallon capacity and a host of impressive features, this sprayer is set to revolutionize your agricultural spraying experience.
Unleashing the Power of the Pegasus 35
18V Lithium Battery with Up to 7 Hours of Autonomy: Our Pegasus 35 is equipped with an 18V lithium battery that boasts an impressive autonomy of up to 7 hours. This powerful battery can spray more than 52 gallons of your chosen herbicides, insecticides, or fungicides on a single charge. With a spraying distance of 9 meters, you can cover a substantial area with precision and efficiency.
Innovative Pressure Regulation System: The Pegasus 35 features an innovative pressure regulation system that allows you to adjust the pressure from 1 to 7 bars, giving you full control over your spraying operation. Whether you're dealing with delicate herbicide treatments or more robust insecticide applications for medium-high crops, our sprayer has you covered. The 3-speed system ensures flexibility and adaptability to your specific needs.
3S System for Versatile Spraying: Our 3S system offers three distinct speeds: low pressure, intermediate speed, and high pressure. The low-pressure setting is ideal for herbicide treatments, while the intermediate speed accommodates both herbicide and insecticide applications. The high-pressure mode is recommended for insecticide treatments and more demanding crop scenarios. Choose the setting that best suits your needs and adjust your nozzle accordingly for precision spraying.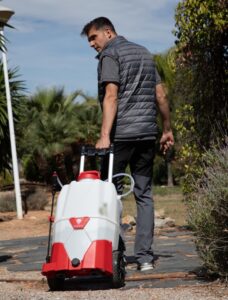 9.25-Gallon Capacity for All-Around Use: With a 9.25-gallon tank, the Pegasus 35 is well-suited for insecticide, fungicide, and herbicide applications. This sprayer allows you to efficiently cover your crops, ensuring they receive the necessary treatments for healthy growth.
Easy Transportation for Agricultural Use: Our electric trolley sprayer is designed with your convenience in mind. It features two durable wheels that make transportation a breeze, even across uneven terrain. Say goodbye to the backbreaking work of carrying heavy sprayers, and hello to effortless mobility and productivity.
Complete Accessories Included: We understand that a quality sprayer is only as good as its accessories. That's why the Pegasus 35 comes with a comprehensive set of essential items. In the package, you'll find the 18V lithium battery and charger, a 237-inch reinforced hose, a 0.4-inch stainless steel lance, a graduated test tube for precise dosing, and three different adjustable nozzles, including a 4-flow outputs nozzle. Additionally, we provide an extension to extend the length of the lance for those hard-to-reach spots.
A Game-Changer for Your Agricultural Operations
The Pegasus 35 Electric Trolley Sprayer is more than just a piece of equipment; it's a game-changer for your agricultural operations. Its autonomy, pressure regulation system, and versatile spraying options will enhance your efficiency, allowing you to get the most out of your treatments while minimizing the effort required.
To make the most of the Pegasus 35, simply charge the 18V lithium battery, load up your preferred treatment, choose the right pressure setting and nozzle, and get to work. You'll be amazed at the time and energy you save, and the results you achieve will speak for themselves.
Are you ready to upgrade your agricultural spraying experience and join the future of precision farming? Discover the Pegasus 35 Electric Trolley Sprayer and take your operations to new heights. Say goodbye to the limitations of manual sprayers and embrace the power and convenience of modern technology.
At EZ Tools & Sprayers, we are committed to providing you with innovative, reliable, and high-quality equipment to make your work easier and more efficient. The Pegasus 35 is just one more example of our dedication to your success in agriculture.
Invest in the Pegasus 35 today and experience the future of agricultural spraying. Your crops, your back, and your efficiency will thank you.